Homemade Sausage Gravy
Let's face it. Sausage Gravy does not photograph well. BUT it does taste good. if you have never tried to make gravy on your own it can be intimidating! DO NOT buy those $1 gravy mixes at the store when you can use five cents worth of all purpose flour.
tonight i decided to make homemade sausage gravy biscuits. B thinks it is funny to mix up dinner with breakfast so i try to do that at least 2 nights a week. AND i get to use my matryoshka measuring cups that i just got for Christmas!
ok now on with the gravy.

brown one pound of ground sausage in a skillet. do not drain.
i normally get fresh ground from our local grocery store meat department.
i always use quality meat only...with as few preservatives as possible.
add one quarter cup of all purpose flour and mix together.
add two cups of milk and mix well. bring to a boil for one minute constantly stirring.
remove from heat.
as it cools it will thicken.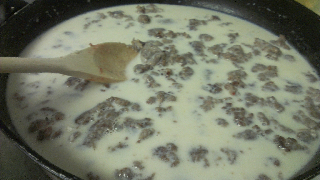 hopefully you have had enough sense to cook your biscuits.
i make mine from scratch (and will share that simple recipe next time)
but you can use whatever kind you prefer.
do not think about how many calories are in one serving
(which is almost one thousand...YIKES)
((and the reason we only have this meal once a month))
just think about how yummy it tastes.
enjoy!
ps: look at this long list of ingredients that are in
your $1 gravy mix packet.....yuck!
{food}
{recipes}
Related Posts