Blonde Brownies and Shredded Blinds
last night i got home and had a mess to clean. daisy mae (our chi-weenie) had shredded the blinds. she does not normally bother anything in the house....but since she has just had her puppies taken from her at Christmas i am assuming this is the issue. needless to say i was a little aggravated
.
i have wanted to make some blonde brownies for a while but have been too lazy to so to take out the frustration of my blinds being shredded i decided to bake.
these are soooo delicious (and yes they came from the toaster oven....hoping to have my new oven installed this weekend!) be prepared to have the urge to eat every single brownie....i won't judge if you do!
(ps excuse the poor photo quality on the ingredient part....it was dark and i was using my tablet.)
ingredients:
1/4 cup butter, melted
1 cup brown sugar
1 egg
3/4 cup flour
1/2 tsp salt
1 tsp baking powder
1/2 tsp vanilla
1/2 cup chopped walnuts (optional)
preheat oven to 350 degrees.
combine melted butter and brown sugar. stir until well blended.
add egg and mix well.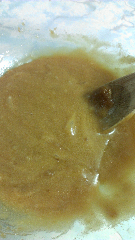 stir in dry ingredients then add vanilla and nuts.
spread in buttered 8"x8" pan and bake for 25 minutes.
enjoy!
{food}
{recipes}
Related Posts